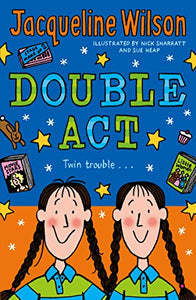 Double Act
Ruby and Garnet are ten-year-old twins. They're identical, and they do EVERYTHING together, especially since their mother died three years earlier - but they couldn't be more different. Bossy, bouncy, funny Ruby loves to take charge, and is desperate to be a famous actress, while quiet, sensitive, academic Garnet loves nothing more than to curl up with one of her favourite books. And when everything around the twins is changing so much, can being a double act work for ever?
Collect all the fabulous Jacqueline Wilson titles on site
Jacqueline Wilson
Former Children's Laureate Jacqueline Wilson first shot to fame with her Tracy Beaker stories and since then has gone on to write more than a hundred books, mostly for children, including popular stand-alone stories such as Double Art and my sister jodie as well as her popular series for teenagers beginning with Girls in Love

.
208 pages 129 x 198 x 13mm paperback 
"My daughter has read it twice since receiving it for her birthday 2 weeks ago. She's a big jacqueline wilson fan."