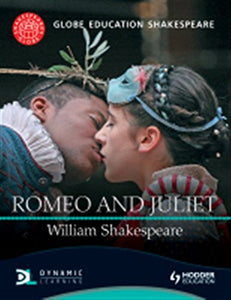 Romeo and Juliet;Globe Education Shakespeare

 
The Globe Education Shakespeare series presents a bold new approach to exploring Shakespeare plays with 12-16 year olds. Activities and unique resources from Shakespeare's Globe enable students to actively engage with each play's language and key themes in both print and digital formats. They are designed for use across Key Stages 3 and 4 with an emphasis on developing students' enthusiasm, understanding and achievement from Key Stage 3 through to success at GCSE. This printed play text of Romeo Juliet is in large format and full colour throughout, with stunning photographs from Globe productions to help students understand the play as a performance text.
144 PAGES 20.96 x 1.27 x 27.31 cm PAPERBACK 
 "As an English teacher, I love the Globe Education series. As far as Shakespeare's texts go, I have found that these are the most helpful for students by far (and believe me I have tried many, many different versions). The text is clear, the pictures are useful and the coloured boxes provide interesting and useful information to break up, what can be for students, quite difficult text."