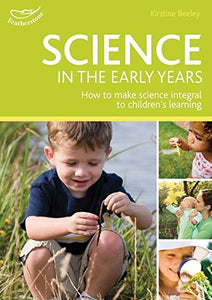 Science in the Early Years Foundation Stage.Understanding the world through play-based learning
This title looks at and challenges the traditional teaching views of science, showing how scientific exploration and thinking are at the heart of child-led, child-centred EYFS provision.
The EYFS asks that practitioners help children to become active learners who are inquisitive and have a thirst for new knowledge. This book will aim to show how scientific exploration, as an integral part of play-based learning, can offer children these skills and develop their confidence to learn and independently explore the world around them.

As an experienced early years trainer Kirstine's passion is science (her teaching degree is in primary science education) and she believes that this book could help build early years practitioners' confidence in offering science based learning. She hopes that this book will take away some of the 'stuffed shirt mystery' of science and show that it is at the heart of good early years practice.
ONLY 1 IN STOCK!
64 pages 21.01 x 0.51 x 29.69 cm softcover