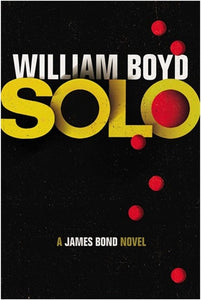 Solo: A James Bond Novel
It is 1969 and James Bond is about to go solo, recklessly motivated by revenge. A seasoned veteran of the service, 007 is sent to single-handedly stop a civil war in the small West African nation of Zanzarim. Aided by a beautiful accomplice and hindered by the local militia, he undergoes a scarring experience which compels him to ignore M's orders in pursuit of his own brand of justice. Bond's renegade action leads him to Washington, D.C., where he discovers a web of geopolitical intrigue and witnesses fresh horrors. Even if Bond succeeds in exacting his revenge, a man with two faces will come to stalk his every waking moment
Bond's arrival in Africa marks the start of a feverish mission to discover the forces behind this brutal war--and he soon realizes the situation is far from straightforward. Piece by piece, Bond uncovers the real cause of the violence in Zanzarim, revealing a twisting conspiracy that extends further than he ever imagined.
Moving from rebel battlefields in West Africa to the closed doors of intelligence offices in London and Washington, this novel is at once a gripping thriller, a tensely plotted story full of memorable characters and breathtaking twists, and a masterful study of power and how it is wielded--a brilliant addition to the James Bond canon.
300 pages PAPERBACK
"excellent book, very exciting. complicated but ultimately very satisfying! William Boyd is good on Africa."